We Amplify Women's Voices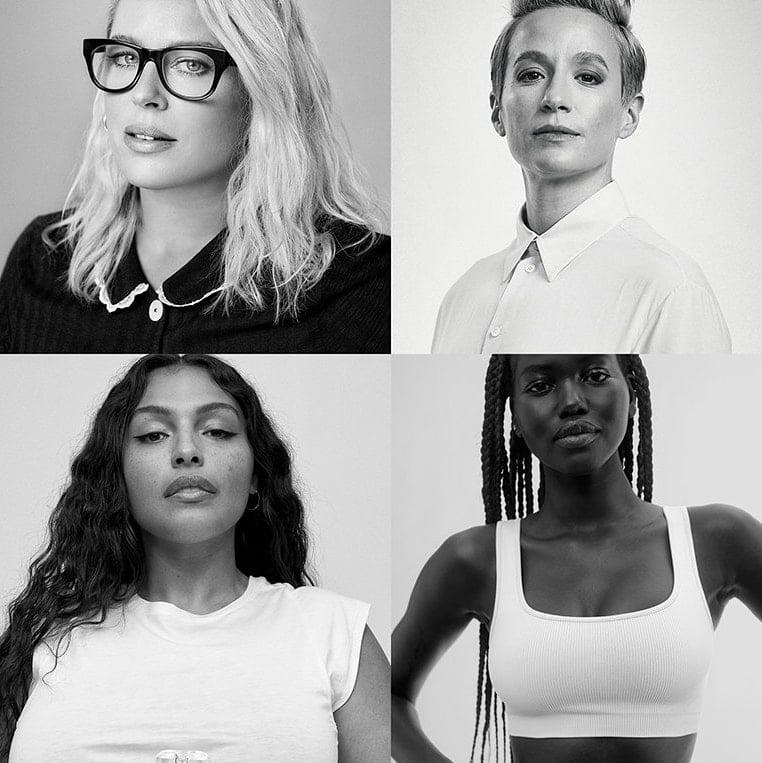 We are spotlighting the multi-dimensional voices of women, from associates to customers. Our goal is to not champion any one perspective, but to use our platforms for purpose.
THE VS COLLECTIVE
We've brought together a group of inspiring individuals who share a common goal to drive positive change. These extraordinary partners, with their unique backgrounds, interests, and passions collaborate with us to create revolutionary product collections, compelling and inspiring content, new internal associate programs, and rally support for causes vital to women.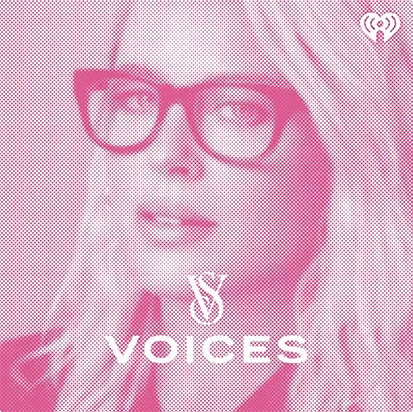 VS VOICES
In this original podcast series, host Amanda de Cadenet connects with trailblazing individuals around the world to talk about everything from love and loss to relationships and spirituality.
A SAFE SPACE FOR ALL
We are fostering a happy, healthy, transparent, and inclusive culture where all associates of all genders and identities are encouraged and rewarded for speaking up and have regular access to forums for doing so.
RESPONSIBLE MARKETING & PHOTOSHOOTS
Transparency, honesty, and accountability are at the core of everything we do. From photoshoots to international initiatives, casting to customer communication, we're steadfast in our dedication to responsible marketing. To reflect this commitment, we've created a Responsible Marketing Policy with the collaboration Of our creative marketing, DEI, ethics teams, and other departments across the business. This policy will be integrated into product, marketing and creative processes.
We have established robust, best-in-class photo shoot compliance procedures that ensure a positive, professional and respectful work environment for all talent partners.
WORKPLACE CULTURE:
In 2021, as a new independent company, we embarked on a remarkable company
transformation from the inside out. We are committed to creating a diverse workplace where every associate feels engaged, inspired and empowered. Our leadership team is dedicated to making sure our associates can be their authentic selves and feel comfortable sharing their ideas and opinions. Our top priority is to foster a happy, healthy, and inclusive environment.
Our workplaces are diverse and equitable, where everyone is treated fairly and respectfully with equal access to opportunities and resources to thrive. We work every day to create a happy, healthy, inclusive culture where our associates from around the world can develop
fulfilling careers in a work environment they enjoy. At the heart of this culture are our values :
• Love the customer
• Diversity. equity and inclusion is everything
• Better together
• Passion with purpose
These values reflect our company's core beliefs and remind us of who we aspire to be together.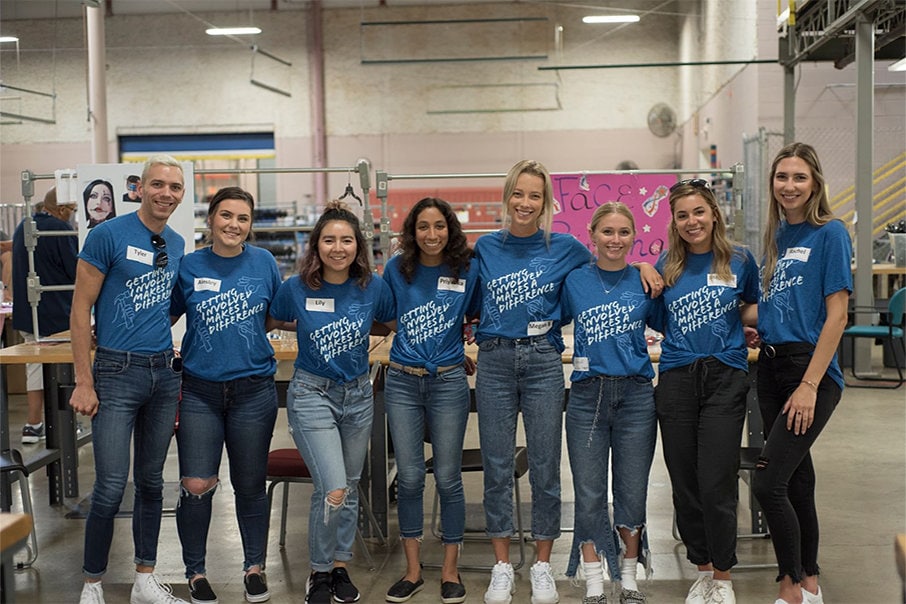 Through our annual Associate Opinion Survey, we receive transparent feedback on what's working well and what needs to be improved within our company. In 2021, 85 percent of associates took the survey. Of those, 87 percent rated as feeling proud to work for VS&Co.
OUR ASSOCIATES
VS&Co is powered by a global team of more than 30,000 passionate people who are united by a common purpose: Providing our customers with products and experiences that make them feel good inside and out, while driving positive change through the power of our products, platform, and advocacy.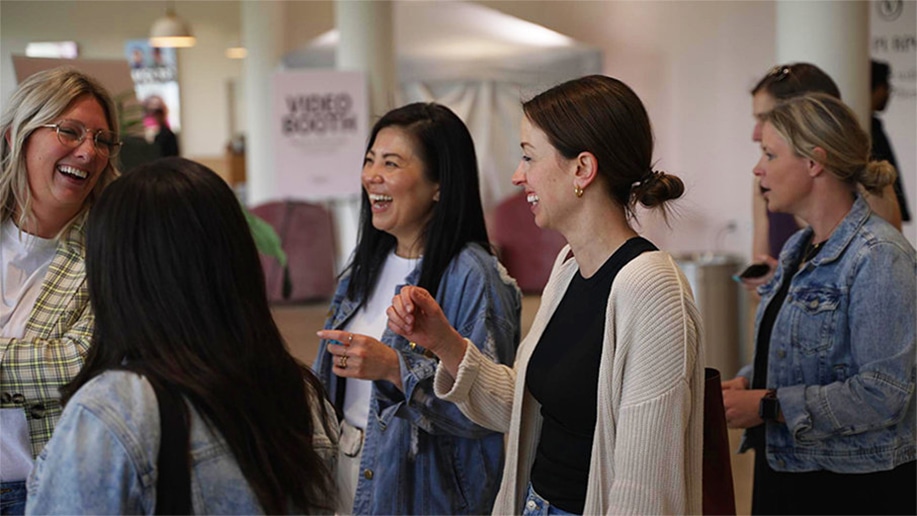 The majority of our associate population – 87% — is women. We know that diversity in leadership drives innovation, fosters inclusion, and ensures a brighter future for our organization and our world. In 2021, our board was 86 percent women and 43 percent people of color. Of our director-and-above roles 59 percent were filled by women and 16 percent were filled by people of color. And women of color make up 8 percent of these leadership positions. We recognize that we have an opportunity to increase our diverse workforce and leadership representation, particularly by closing the gap in our Home Office and director-and-above roles.
DIVERSITY, EQUITY & INCLUSION
OUR DE&I VISION:
To celebrate, honor, and reflect the differences of our customers, our associates, and the communities where we engage.
DRIVING WORKFORCE REPRESENTATION:
To strengthen our workforce and better reflect and serve our customers, it's critical that we have diverse voices at the table. We are committed to retaining more diverse associates, attracting more diverse talent and empowering the growth and advancement of all our associates. The following data relative to associates' gender identity reflects our global workforce, all data regarding race or ethnicity reflects only associates based in the United States. All representation data is self-disclosed by our associates.
In 2023, we announced two quantifiable goals related to increasing representation of people Of color in leadership and home office roles: (i) achieve 25% representation of people of color for director and above home office positions by 2028 and (ii) achieve 35% representation of people of color for manager and below home office positions by 2028. We also committed to advance gender parity over the next five years, focusing on the development and promotion of internal talent at the Vice President and above level. We will report annually on our progress toward these goals. We will drive progress on our new DEI People Goals by:
• Being intentional about promoting and advancing women and people Of color
• Recommending diverse interview slates
• Tapping into diverse talent pipelines, from stores and distribution centers to the home office
• Making leadership development programs available to women and people of color
• Evolving our full life cycle recruiting process to address barriers to entry
• Forming new partnerships and relationships with organizations that cultivate a diverse talent pipeline
• Holding leaders accountable for supporting the growth of diverse talent
• Offering equitable learning and development opportunities for all
The following data relative to associates' gender identity reflects our global workforce, all data regarding race or ethnicity reflects only associates based in the United States. All representation data is self-disclosed by our associates.